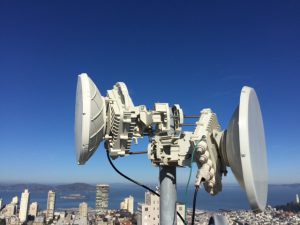 (Oct-2016)  Google Fiber today said it has completed its acquisition of Webpass, a wireless Internet service provider that will figure prominently into its plans for deployment of high-speed Internet. But the Alphabet division is not giving up on fiber, saying it will use both wireless and fiber networks to compete against cable companies and telcos.
Google Fiber revealed its plan to
buy Webpass in June
, and the company said in an
announcement today
 that Webpass "is now officially part of the Google Fiber family." The
Webpass site
 has been updated to call the service "Webpass from Google Fiber.".
"It's been impressive to watch Webpass evolve from a boot-strapped startup to an established category leader with tens of thousands of happy customers in five major metros from San Francisco to Boston," Google Fiber President Dennis Kish wrote.
Webpass uses point-to-point wireless technology that's useful for connecting businesses and multi-unit residential buildings in densely populated areas. It hasn't been financially feasible for Webpass to bring its high-speed network to single-family homes, so it can't fully replace Google Fiber's wired Internet service.
"[O]ur strategy going forward will be a hybrid approach with wireless playing an integral part," Kish wrote. "Going forward, Webpass will continue to grow and scale their business with point-to-point wireless technology, including expanding into new cities. And for our part, Google Fiber will continue to build out our portfolio of wireless and fiber technologies, to bring super fast Internet to more people, faster." Existing Webpass customers will see no change to their service, he wrote. Webpass's residential service offers speeds of up to 1Gbps for $60 a month in San Francisco, San Diego, Miami, Chicago, and Boston. There's no word yet on where Webpass will deploy next.
Google Fiber's financial health has come under scrutiny lately, largely due to an unconfirmed report by The Information that Alphabet CEO Larry Page in July ordered Google Fiber "to halve the size of the Google Fiber team to 500 people." It's not clear whether any layoffs have occurred and Google Fiber has declined to comment on the report. But the company delayed construction of fiber lines in San Jose recently while it considers wireless as an alternative to fiber, and it reportedly suspended a project in Portland, Oregon.
On the plus side, Google Fiber last month began signing up customers in the North Carolina Research Triangle, its eighth metro area with fiber service. Google Fiber's promise today to "build out our portfolio of wireless and fiber technologies" sounds like good news for customers who want more competition and $70 gigabit Internet service, but the company faces some hurdles—including lawsuits AT&T filed in both Nashville and Louisville to stall Google Fiber's progress.
This post originated on Ars Technica