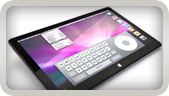 Blackberry has announced its answer to Apple's iPad with a device called the Playbook.
The company unveiled its tablet computer to much anticipation at its developer conference, Devcon, in San Francisco. It is one of the first business-centric devices in the tablet market. Analysts said that the release was a clever move by the Blackberry maker Research In Motion whose smartphones dominate the business sector.
'Cutting edge'
"This is one of the most exciting times in our history," said Mike Lazaridis, RIM chief executive officer.
"RIM set out to engineer the best professional-grade tablet in the industry with cutting-edge hardware features and one of the world's most robust and flexible operating systems," added Mr Lazaridis.
Analysts have said the Playbook will give RIM an opportunity to dominate in a market it is familiar with and where it enjoys a solid reputation.
"RIM's Blackberry Playbook tablet looks to be a real challenger to Apple's iPad, playing on its business credentials, rather than being just another joy machine'," Stuart Miles, editor of mobile technology website Pocket-Lint told BBC News.
"Whether RIM can deliver what it promises in the business environment with a selection of new apps on yet another operating system will be the real test though. Either way, it's clear that the battle of the tablets is now full steam ahead."