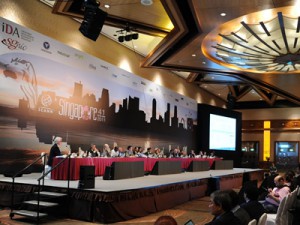 (Addis Abeba) The President of the Internet Corporation for Assigned Names and Numbers (ICANN) said he is moving ahead immediately with plans to have six new ICANN representatives on the African continent.
"ICANN used to say if you want to participate in Internet governance come to ICANN," said Fadi Chehadé. "We've changed that, now ICANN is coming to the stakeholders. We're not waiting for you to come. We're coming to you."
Chehadé made his comments during a two-day Africa Multi-stakeholder Internet Governance meeting of Internet leaders from across the continent, in Addis Ababa, Ethiopia.
"We will have ICANN staff, at least one, in each of the six regions of Africa. North, South, East, West, Central and the Indian Ocean," said Chehadé. "I want African on-ramps into the ICANN structures. I will give you the on-ramps, but you need to climb them."