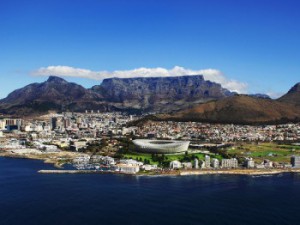 If Internet proliferates in Africa at the rate mobile phones did in the early 2000s, the continent stands to add as much as $300 billion to its economic growth by 2025, a new study by theMcKinsey Global Institute has found.
While most internet connections occur at home or at the workplace, a number of companies and cities have started initiatives to provide cities, towns and suburbs with free Wi-Fi access. IT News Africa has compiled a list of 10 places across Africa that have either already implemented free Wi-Fi or have free access initiaitives in the pipeline.
1. Tshwane, South Africa
With Alan Knott-Craig Jnr as the CEO and founder of Project Isizwe, the project is a non-profit which aims to bring the internet to people across South Africa, by facilitating the roll-out of free Wi-Fi for public spaces in low income communities. "The focus is to cover open public spaces around educational institutions within low income communities, as well as congested metropolitan areas. Our Pilot Projects currently are in Stellenbosch and Tshwane (Pretoria)," the company explained. "Isizwe helps Governments plan, roll-out and maintain Free Wi-Fi networks, helping to trigger a 'multiplier effect' on the economy and creating employment," they revealed.
2. Cape Town – South Africa
The Western Cape government's free Wi-Fi pilot project was announced in March this year, with a roll-out starting in the community of Delft. The suburb of Cape Town will be one of four to benefit from the City's free Wi-Fi project, with the others including Atlantis, Robertson and the Garden Route. "Through this pilot, 90,000 people in four spaces in the Western Cape are going to be connected to the internet. " says Western Cape finance, economic development and tourism MEC Alan Winde.
3. Stellenbosch – Western Cape, South Africa
In collaboration with Stellenbosch University, Alan Knott-Craig Jnr's aforementioned Project Isizwe aims to pilot free Wifi in Stellenbosch. The second phase of the roll-out came into effect in March last year. "It truly is passion-driven, and an indication of how keen we are as a community in assisting in closing the digital gap," said the project's Carinus Lemmer.
4. Nakuru County – Kenya
Nakuru became the first town in Kenya to offer its citizens access to free Wi-Fi through a partnership between the State House Digital Team and the Nakuru county government. Nakuru is only the third African city to provide such a service. "The business community can use the internet to conduct international trade while university and college students can get free study materials," State House director of digital media and diaspora communication Dennis Itumbi said. The project reportedly cost $2 million.
5. Kigali – Rwanda
A Smart Kigali initiative launched in September last year will allow citizens to access free Wi-Fi at designated spots around the city. Access is provided through a partnership between government agencies the Rwanda Utilities Regulatory Agency (RURA) and the Rwanda Development Board (RDB), as well as the Rwanda Hotel and Restaurant Association, the City of Kigali and internet service providers (ISPs). "Smart Kigali will significantly contribute towards delivering better services. We want internet broadband to be accessible for everyone to be able to access information anytime," said Jean Philbert Nsengimana, Minister for Youth and ICT.
6. Murtala Muhammad Airport Two – Lagos, Nigeria
Lagos' Murtala Muhammad Airport Two (MMA2) has introduced a free Wi-Fi project that will allow passengers to access the internet for free within the airport terminal. According to Bi-Courtney Aviation Services Limited, this type of offering is the first of its kind in Africa. The project is a collaboration between BASL, iWayafrica and MultiChoice Nigeria. "We're really making the travel experience unique. We are the only airport terminal in Africa to offer free WiFi to passengers. We are the only airport in Nigeria with live arrivals and departures on the net and this is just the beginning. When it comes to working, investing and maintaining in the interest of the Nigerian public, we will make sure we remain far ahead," said spokesman Steve Omolale-Ajulo on behalf of BASL.
7. Nigeria – countrywide
Nigeria's Visafone Communications, a leading Code Division and Multiple Access (CDMA) operator has launched a free service, that will see its subscribers enjoy free WiFi hotspots all over Nigeria. Although the project is only aimed at existing Visafone customers, Managing Director Sailesh Iyer said it would provide customers with fast internet on a range of devices. "Visafone customers can walk into any of the 18 designated Visafone shops in Nigeria between 8.00am to 6.00pm; Mondays- Fridays with their laptops, ipads, iphones, tablets and other WiFi enabled devices to enjoy a superb browsing experience."
8. AlwaysOn – Africa
Wi-Fi provider AlwaysOn announced last year that all African Samsung customers will be able to enjoy free Wi-Fi at AlwaysOn hotspots across the continent at no charge. "The Samsung AlwaysOn promotion provides Samsung Wi-Fi enabled smart devices purchased in South Africa with 1GB of free AlwaysOn Wi-Fi data every month for 12 months," they explained. Although the promotion is only available for a one-year period from registration, Samsung users will be able to top up their accounts with more data after the promotion period ends.
9. Lagos – Nigeria
In September last year, Oxygen Broadband Networks partnered with restaurant chain Chicken Republic to provide free high-speed internet access in a number of outlets across the Lagos region. "With the Oxygen network, customers can have access to Internet hotspots across the city, giving them the freedom to work or play on the go," explained Chief Executive and Co-founder of Oxygen Broadband Wande Adalemo.
10. South Africa
An honorable mentioned should be made of www.findfreewifi.co.za. While the website does not provide free Wi-Fi, it does however display all the free  hot-spots in South Africa where. "Our mission is to help you find free Wi-Fi spots around South Africa," the company states. The website currently lists 1932 locations in 57 cities, with the majority of hot-spots being located in Johannesburg and Cape Town. The company behind the website also launched an Android, iOS and Windows Phone app.
Source: IT News Africa