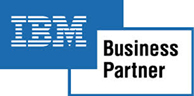 (Dec-2014) Small Globe Solutions Ltd is now proud to announce that we have now become an official IBM Business Partner. This is a great news for our clients and business partners in the Horn of Africa region, which is dubbed as a frontier technology market but nevertheless a fastly developing region.
IBM is a strong global brand which operates as a multinational technology and consulting firm. The company manufactures and sells computer hardware and software and also offers infrastructure, hosting and consulting services in areas ranging from mainframe computers to nanotechnology.
SGS Ltd is now an official Business Partner of IBM.