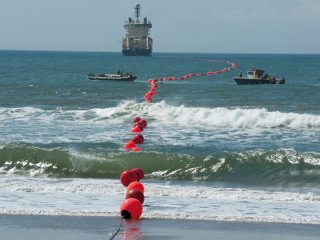 (Neirobi, KENYA) WIOCC, the largest shareholder in EASSy, the highest-capacity submarine cable system serving Africa, has announced the interconnection of its network with that of Global Crossing.
The strategic agreement will enable WIOCC to further extend its customers' connectivity in countries where it previously did not have coverage, by making it part of the Global Crossing Tier 1 MPLS network – http://www.globalcrossing.com/network/network_interactive_map.aspx. In addition to expanding WIOCC's reach, the relationship will increase flexibility and provide significantly reduced transit charges for customer terminations. It also enhances Global Crossing's ability to deliver high-performance Tier 1 internet connectivity into carrier facilities and enterprise locations throughout the east and southern Africa region.
WIOCC CEO Chris Wood said: 'This strategic relationship with Global Crossing, with its comprehensive global network reach, significantly improves our ability to deliver end-to-end service to WIOCC customers in Africa and the rest of the world. We already offer the only direct fibre-optic route between east Africa and Europe, and with this new agreement in place we now have the capability to extend our reach to even more points on the globe.'
EASSy is a 10,000km, 4.72Tbps subsea fibre-optic cable which runs along the east coast of Africa and has landing stations from South Africa to Port Sudan. EASSy gives WIOCC extensive reach along Africa's eastern seaboard, while onward connectivity to Europe and beyond is provided through multiple interconnect points with other fibre-optic systems. Global Crossing reaches more than 700 cities in more than 70 countries across North America, Latin America and Europe. The two networks are interconnected in London, offering both service providers improved reach across their respective markets. 'Our shareholders own terrestrial networks that interconnect 20 African countries over more than 50,000km of optical fibre, serving more than 400 African locations,' added WIOCC's COO Ryan Sher.